About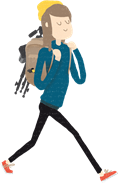 Giulia Fassina is an Italian photographer and filmmaker born in Padua in 1990.
She studied Visual and Performing Arts at IUAV University of Venice. Her personal work is mainly influenced by humanist photographers and american literature, and it is focused on the relationship between man and the Nature through documentary photography and travels around the world.
She has been taking part in film productions in Europe and USA, working as unit still photographer. She currently lives in Italy but she keeps wandering, working as freelancer.